We are excited to announce that Great Plains Flax has been acquired by North Dakota Based Stevens Farm, a family owned and operated farm and flax seed grower since 1950.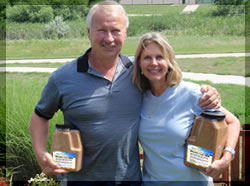 Now that we have found the perfect acquisition partner, Connie and I can finally retire. We want to thank all of our loyal customers over the past 14 years. We will miss you all dearly and we are truly sad to close this chapter in our lives. However, we are very excited that Stevens Farm, who shares our values and our dedication to our customers, will be taking over our operations. You will be in great hands and Stevens Farm provides the same high quality, family farm grown North Dakota golden flax seed that we have been providing. Stevens Farm has been family owned & operated since 1950 in Renville County North Dakota. They have long been a competitor of ours and we have looked up to them and their product so we are very pleased that they were willing to purchase our operation and take over supporting our loyal customers. Like us, they also offer Free Shipping on all orders to the US 48 States!
Please welcome March Stevens and family, they will now handle all flax seed orders both online and over the phone at: 1-888-783-2545

The History and Story of Great Plains Flax
Great Plains Flax was founded by John and Connie Schutt in 1999 after doctors discovered that John's cholesterol and triglyceride levels were elevated higher than normal. John spoke to his mother in law and she mentioned that flax seed may help him as it had her. She bought some for John to try. John's cholesterol dropped 20 points and his triglycerides dropped over 80 points within 7 weeks of flax seed use. After doing more research on flax seed we decided to start marketing and selling the seed to others.
Connie's father was with NDSU and had many contacts within North Dakota. Connie and John made contacts and were able to buy the very top quality seed for human consumption. Our purity rate is at least 99.95% pure.
John and Connie traveled to North Dakota at least twice a year to check on the crop and make sure the quality is always the best. They are committed to a health lifestyle with daily use of flax seed and are pleased to be able to offer the most potent, golden flax seeds available to the public. We are extremely meticulous about the quality and customer service we provide, personally packaging and sealing 100% of the seed ourselves.
Our whole flaxseeds are 100% natural, gluten-free and straight from the farm with no secondary processing performed on them. Our flax seeds are loaded with Omega-3 fatty acids which are have a number of excellent health benefits. They are also some of the highest purity available to the public. Certified 99.95% pure by the state of North Dakota.
Now a new chapter has opened for Great Plains Flax because of the acquisition by the family owned and operated Stevens Farm. Because they share our values and dedication to our customers we are very confident you not notice a difference in the customer service and quality of the golden flax seed purchased through them. In fact, because they grow their own golden flax seeds right there on their family farm, they will be fresher than anyone else on the market.